QA Consultants Named Testing Management Team of the Year at North American Software Testing Awards

Winning two years in a row recognizes QA Consultants' exceptional vision, industry leadership and innovation in software quality engineering services for trusted quality outcomes with customers.
TORONTO, November 10, 2022 – QA Consultants Inc., North America's largest independent onshore provider of software quality engineering services, is pleased to announce it was named Testing Management Team of the Year at the 2022 North American Software Testing Awards.
The North American Software Testing Awards span 15 categories and represent the gold standard of the year's software testing and quality engineering projects. QA Consultants was proud to win this award that showcases the caliber of its team and leadership.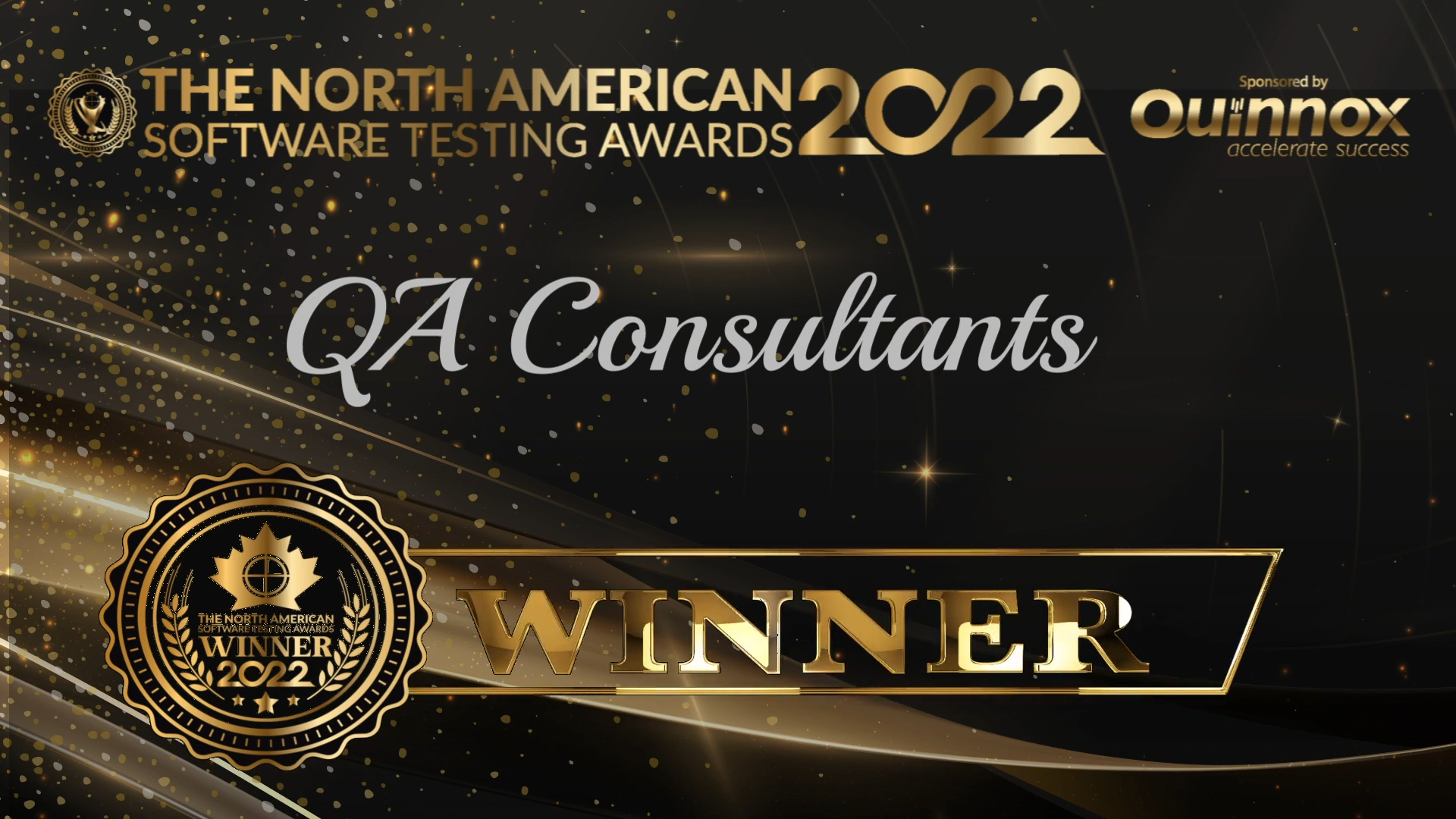 In addition to its win, QA Consultants was proud to be nominated in five additional categories including Best Agile Project, Best Testing Project in Retail, Graduate Tester of the Year, Testing Manager of the Year and Best Testing Team of the Year.
"It is an honor to be named Testing Management Team of the Year for the second time in a row competing with industry peers like Deloitte, IBM, Capgemini and Tech Mahindra. Having a quality team behind quality products delivers the trust and security that our customers need most", said Alex Rodov, founder and managing partner, QA Consultants. "This recognition reinforces how our projects are led by the best testing management team in the quality assurance industry and is a true testament of our unwavering drive to solve unique challenges and provide comprehensive software quality engineering services to our clients."
This year, QA Consultants achieved significant growth milestones underscoring the consistent value of their quality assurance practices among its dynamic client base, covering multiple industry sectors. As a leader in software quality engineering services, QA Consultants continues to show its competitive advantage through its loyalty to the craft of quality by helping customers build and design better software through services that determine how software works, scales and remains secure.
Companies' pandemic-driven digital transformation accelerated the modernization and update of IT systems and infrastructure more than ever before. QA Consultants' trusted software quality engineering services increased in demand as faster cycle times, shorter time to market and optimized customer experiences became business critical.
"Congratulations to all the nominated peer service providers and quality-minded organizations. It is thrilling to join other leaders spearheading the change in industry standards to best protect organizations across North America", said Brian Bernknopf, managing director, QA Consultants. "Events like this maintain focus on software quality and help keep it top-of-mind for the IT industry. We will continue our relentless push for high quality software development through pragmatic approaches within software engineering organizations."
Previously, QA Consultants has won other awards at this event, including the Testing Management Team of the Year award in 2021 and Best Mobile Testing Project in 2019.
About QA Consultants
QA Consultants is North America's largest independent software quality engineering services firm. An award-winning onshore provider of software testing and quality assurance solutions, we are the trusted engineering services company for business, industry and government supported by leading practitioners and solutions. For almost 30 years, we have successfully delivered 12,000+ mission-critical projects in the private, public and not-for-profit sectors. We reduce risk and improve time to market with quality engineering, keep applications secure through dedicated application security capabilities, and reduce cost of ownership while enabling applications to scale via performance engineering. We are proud of our vision to help clients achieve flawless technology outcomes. QA Consultants also operates a robust emerging technologies practice with a focus on quality engineering solutions for connected and autonomous vehicles, artificial intelligence (AI), Internet of Things (IoT) and blockchain.
Contacts
QA Consultants Media Contact:
Barry Zeidenberg at (416) 706-2504
[email protected]
qaconsultants.com